What is Pilates | Pre and Post Natal Pilates

PILATES IN THE NAUL 2018 – Starting September 2018
SKERRIES OUTDOOR PILATES
Wednesdays @ on the grass beside springers swimming spot, €7 pp, start 11am – 45min session, 
(Kids allowed but parents must mind them)
What is Pilates? Pilates is an exercise system developed by Joseph Pilates to strengthen muscles, increase flexibility, and improve overall health, it focuses on engaging the body with the mind. Pilates can be performed both indoors and outdoors.
MAT PILATES for all ages and levels of fitness @ Seamus Ennis Centre, Naul.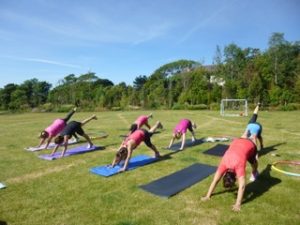 FitBod Mat Pilates – specific emphasis on mind and body "fit body fit mind", breathing, concentration, strength, flexibility, whole body movement, relaxation, centering and core control.
Private and Group Classes At Fitbod I teach both private Clients one-2-one Pilates, and Group Classes. If you have a group interested in Pilates, I can travel to you to teach.
Pre and Post Natal Pilates Mat Pilates – Helps in mobility pre and post pregnancy and is important for overall health and wellbeing by maintaining a healthy lifestyle for both mum and baby. Physical changes take place during pregnancy so its advisable to get good advise on exercise during this time. I am a qualified Pre and Post Natal Pilates Instructor, I have worked with mums before and after birth, I myself have had two babies. One was a C Section of which is important to know after care for the body.
Once your baby is born you should start to do gentle, simple exercises to help the body after birth. Depending on the type of delivery, it is advisable to get good advise, pilates is a safe gentle way to move after the babys birth.